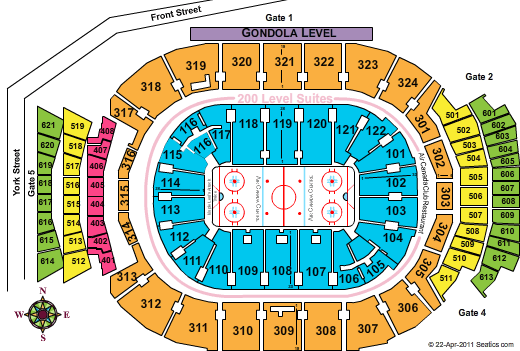 Children – Tickets
Children 24 months and under may enter without a ticket but must sit on the lap of an accompanying adult. All children over 24 months MUST have a valid ticket for a specific seat location.
Gate Times
Gate 1 opens 90 minutes prior to start of game
Gate 2 opens at 5:00 p.m. for all games 
Gates 3-5 open 60 minutes prior to the start of game
Saturday games – all gates open 90 minutes prior to the start of game
Will Call
Fans may pick up tickets at the Ticket Office in the Galleria where there are several windows designated for Will Call. When picking up tickets purchased online or by phone through Ticketmaster, photo I.D. and the original credit card with which the tickets were purchased must be presented. Fans and guests are discouraged from leaving tickets anywhere else for pick up.
Seating Capacity
The seating capacity for a Toronto Maple Leafs event is: 18,200Escalators
Escalators connect Level 100 to Level 200, and Level 200 to Level 300 on either side of Gate 1.
Elevators
Elevators located at Gate 2 provide access to Parking Levels 1 and 2, the arena, Air Canada Club Restaurant, theatre suites, and the office tower. Elevators located at the northwest corner of the arena provide access to Parking Levels 1 and 2, arena seating, and loge suites.
Maple Leaf Square
Maple Leaf Square is a vibrant sports and entertainment district that will become Toronto's newest must visit destination. It includes:
110,000 square feet of retail space
230,000 square feet of office space
166-room boutique hotel
872 condominium units
800 parking spaces (400 public)
Daycare centre
PATH Walkway access
LEED certified
Fan Services
Fan service's goal is to excite every fan by delivering fun, value, and extraordinary hospitality. Should you have a question or concern, or require assistance during an event at the Air Canada Centre, we encourage fans to visit Fan Services at one of the following locations:
Gate 2
Level 100, at Gate 1
Level 300, at Section 321
Prohibited Items
For safety reasons, fans are refused entry if they are in possession of prohibited items. Illegal items will be turned over to Toronto Police. If a fan is found in the facility with prohibited items, the items will be confiscated and in some cases, the fan may be ejected from the building. Prohibited Items include (but are not limited to):
Bottles and cans
Coolers
Sticks
Aerosol cans
Weapons or fireworks
Skateboards or rollerblades
Alcohol/outside food or beverage*
Illegal drugs or noxious substances
Cameras, sound and/or video recording devices,
Helium balloons
Stolen tickets
Restaurants
Air Canada Club Restaurant (Members Only)
The Air Canada Club has a relaxed, uptown lounge feel and offers visibility into the arena seating area. The Club is an interactive entertainment space where guests can take in all of the action from sporting events and concerts. Air Canada Club features a green onyx 80-foot bar (one of the longest in Toronto), a 1,300-bottle wine cellar and a private dining lounge sponsored by Diageo, known as the Sterling Room.
Location: Level 200; accessed via Gate 2 on Bay Street
Hot Stove Club (Members Only)
The legendary Hot Stove Club maintains the tradition of fine dining in a relaxed clubroom environment and is the namesake to the segment still aired on CBC's Hockey Night In Canada broadcast. It was originally located at the venerable Maple Leaf Gardens and continues to serve its faithful Club Members. It features an open kitchen, lounge/bar area and traditional service with a Chop House style menu that focuses on aged steaks and prime rib.
Location: Level 200; accessed via Gate 2 on Bay Street
Platinum Club (Members Only)
Elegant and contemporary with a formal ambience, the TD Waterhouse Platinum Club features fine dining cuisine in the heart of a sports arena. Established in 1999 with the opening of Air Canada Centre, renovations in 2009 have allowed the Platinum Club to showcase our award-winning wine list in a floor to ceiling 3,500-bottle, 3 Palms Wine Cellar, and also feature the installation of two white back-lit onyx bars. The Club gives Platinum Seat Holders exceptional food and premium service in a sophisticated, upscale environment. Along with highly trained staff and Sommeliers, the Club has become a lavish haven for those enjoying games. For a more formal dining experience, visit the Platinum Club, serving a five star à la carte menu before every event.
Location: East side of Event Level; accessed via Gate 2 on Bay Street
Smirnoff Ice Box
The Smirnoff Ice Box is a vibrant, modern bar with a view of the arena bowl as well as a western view of the Toronto skyline. Open to the ticketed public at all sports events and many other arena events, the Smirnoff Ice Box features a full concession service of premium menu items and provides a large socializing environment with seating before and during the game.
Location: West side of Level 300; accessed via Level 300 concourse and Gate 5 elevators and escalators.
Lord Stanley's Mug
Lord Stanley's Mug is located on the south side of the main concourse and has an attached brewery by Molson, under the careful eye of brew master Paul Swindle. The brewery provides the Rickard's Red beer served at Air Canada Centre. In addition, various grilled and prepared foods from The Carvery complement the energized atmosphere under the copper hooded open kitchen.
Location: South side of Level 100 concourse